169 comments Add a comment
There is nothing worse than when a vegetarian, or worse still a vegan with holier-than-thou morals turns up to your BBQ. What on earth do you do to feed them? Do you source out some cardboard burgers or point them in the general direction of the salad bowl? What do you cook for the vegetarians who turn up to your BBQ?
I know they think they're being good and pure, not harming animals and being ultra civilized, but it's just downright inconvenient for the rest of us who have to cater for them and put up with their snide comments; wouldn't mind if it wasn't for the attitude. Us meat eaters normally tend to hang out with fellow carnivores, but somehow or other when it comes to a social gathering you'll occasionally get a veggie with chip on their shoulder. A chip that must not have been cooked in animal fat I hasten to add!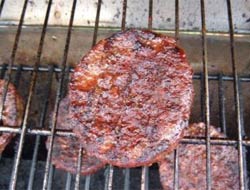 They'll try to convert the meat eating hordes to their way of thinking. Eating meat is bad. It's not healthy and think about the cruelty and suffering to the animal. What's the matter with them? Have they looked at their teeth lately? Those pointy ones might be a bit of a clue, because I don't think the thousands of years of evolution were for nothing!
You can feast on the cheese roles and salad...
To heck with them I say, when in Rome do as the Romans do. If you don't like sausages I'm not going to force you to eat them, you can feast on the cheese roles and salad for all I care. You don't have to eat meat, but if I want to partake of dead flesh then I will and what's more I will enjoy it.
Don't get me wrong, I'm not setting out to deliberately offend vegetarians. After all, one man's meat is another man's poison or so they say. It's the ones that don't respect my opinion and criticise the fact that I eat meat that I have a problem with.
Leave a comment