9 comments Add a comment
I was once disabled but have always been gifted. However since adapting to normal life and talking about my experiences, many unfortunate families who have had children with special needs have told me of how the public services offered by the state have in many cases made it worse for their children and them.
Going by my own past experiences I have reason to believe that with the public services having the highest level of incompetent workers, thus low self-esteem and looking for opportunities to get one up at the expense of others. I wouldnt be surprised if some of the workers like to play God on some of the vulnerable people they have responsibility over. For example they could be office workers who purposely stereotype their clients and not treat them as individuals, mostly because of what I believe to be a personality or attitude disorder they are trying to hide, and so they get a fling out of controlling the vulnerable.
How do I know this? I used to have epilepsy and could outperform some teachers in some subjects in school, but due to the frequency of my seizures I was labelled as subnormal by a disablement resettlement officer. I found out after I couldnt progress in my career by getting a friend to obtain a reference from my employer so I could see what was being said and it stressed my so-called inability through having seizures.
They wanted to get me for as cheap as they could...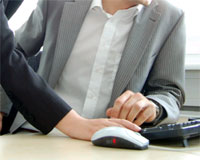 The effects of a seizure and recovering took effect less than 2% of the time so the remaining 98% of the time as gifted certainly outperformed 100% of an average person. They were exploiting me and wanted to get me for as cheap as they could and for as long as they could, but I walked out and went into business to prove my capabilities.
I believe that many unfortunate individuals in care and under some sort of officer in a local authority or civil servant are being undervalued by the judgement of these public service workers and if they cannot get out of this trap then they are stuck, just like there are many elderly being abused.
I would have been if I hadnt uncovered the truth, so I would like to make those of you out there who know of or are close to someone who is unfortunate and needs care or support to watch out how the public services are treating them.
If the public services get away with it then it gets brushed under the carpet, but I want to expose what has gone on to help prevent the vulnerable from this bureaucratic abuse which seems immune from prosecution due to not having appropriate evidence.
By: Bonehead
Leave a comment