28 comments Add a comment
Why do Weightwatchers and other diet food brands exist? Do women on a slimming diet really have to jump on someone else's commercial bandwagon? Eating less should cost less, not more. These women trot down to their fat club meeting every week (some go in the car!) and pay for the privilege to use somebody else's scales.
Surely the whole point of such groups is to eat less, not to eat more food. Weightwatchers yogurts for example. Why bother having one? It doesn't matter whether its 60 calories instead of 120, it's still calories... it doesn't have some sort of negative calorie count that will make you thinner! As for slimming pills and all the loose weight quick diets that are out there, well you'd have to be naive to go down that road.
I do appreciate aspects of certain diet systems and some of the concepts behind them. The main problem is however is that businesses will happily paint a contorted picture of what you need to do in order to get slim in order to get you hooked on their multiple week system, range of foods or exercise equipment.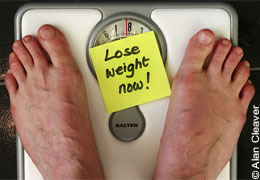 This is understandable on their behalf as it easily captivates the many who happily throw their money unnecessarily at these things. To be forced to observe this naivety from the customers though in addition to such furtive business activity sure is a mighty nuisance.
Whilst we're on the subject, you have to admire the timing of all the slimming ads. They tend to be more prevalent straight after Christmas and New Year when we've all eaten a bit more and made some resolutions to loose a bit of weight. For all of you who are thinking of going on a diet loosing weight is actually really simple. You eat a nice healthy balanced diet with a few less calories. You avoid the sugar and cakes, you do more exercise and burn off some of that fat. It doesn't actually cost anything, but it does require willpower and the desire to really loose weight in the first place.
By: Edward W
Leave a comment