46 comments Add a comment
Women who gossip all the time and are indecisive! Here we go, its one of my pet hates and I fully expect to be flamed well and truly for this one. Okay, I'm one of those office workers and I like to go and grab a sandwich from the canteen. Lots of people like to do this between twelve and and two in the afternoon, so as you would expect lunch times can be quite busy.
Now my gripe isn't with the food or the contents of the sandwich, which is sometimes mediocre. My issue is with my fellow workers, particularly the female ones as I find it quite irritating the way their brains' suddenly switch off the moment they queue up for lunch.

They spend about ten minutes whilst waiting in the queue gassing with whoever will listen about their kids, their boyfriend, their diet, what happened on 'sex in the city' last night. What they really should be doing is deciding what they want to eat. So what's wrong with a bit of polite conversation or gossip in the lunch queue I hear you ask?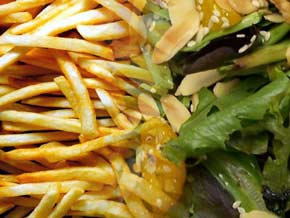 they can't make up their mind what they want...
The problem is that when it's their turn to be served, they can't make up their mind what they want and this delays everyone else! If they had read the menu to see what 'today's special' was, they wouldn't be trying to decide between that and the bowl of salad when they get to the front of the queue. I know this probably all comes across as a bit petty and maybe even arrogant, but it's all time wasted queuing and that is something I find very irritating. Another part of it all really is the fact that I have to stand there and listen to the gory inner details of their personal life. No thank you, way too much information before I've had my lunch!
Sorry, I just had to get that off my chest, and while we are at it let's talk about personal space. Standing in line isn't difficult. It doesn't involve meandering back and forth between gossip buddies. It also doesn't involve being a few inches from me with your arms flailing around! In short, respect personal space and think about lunch not gossip!
Leave a comment