26 comments Add a comment
In light of the recent headlines regarding Jamie Carragher and Alex Ferguson I feel the situation has gone too far. It has reached the stage where so called 'football fans' can get away with screaming the most foul, vile verbal abuse, often about the players family.
So exactly what is the football player supposed to do? Are the meant to accept it because 'that is what he is paid highly for' according to these idiots who shout out these nasty, horrible insults?
And wo betide the player who scores and then quite rightly celebrates his goal. He is accused of inciting the crowd and by the same people who have dished out the non stop verbal abuse for 90 minutes. They want the player arrested and charged by the police and the FA for hurting their feelings! The hypocrisy is staggering. I don't care if you are the richest football player on earth, no one should have to put up with this kind of horrible verbal abuse whilst trying to do their job.
Would these people verbally abuse Bill Gates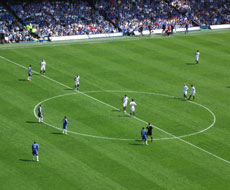 Would these people verbally abuse Bill Gates if they met him on account of the money he earns?
I just find it very sad some people can get so pumped up and then act in a way that would see them arrested if they behaved like that in the street.
Wouldn't it be interesting to see some of these idiots meeting their targets in public (without a group behind them). I wonder if they would still be brave enough to shout out nasty insults?
By: Tomo
Leave a comment