70 comments Add a comment
I am fed up with people who hurl abuse. I am overweight, so I walk into work in an attempt to loose some weight. On my journey there however, I regularly have to suffer verbal abuse from kids going to school, thugs in vans and car drivers. Why do these people all feel that they have the right to yell abuse at me because of the way I look?
I have on occasion had food thrown at me
I am trying to sort my body out, but I don't deserve to live with this constant fear of walking around and trying to avoid people who shout insults at me because they think it's funny to see someone overweight . They forget all about it once they have driven past me or turned the corner.
I do not forget the incident however because it's actually very hurtful. I have on occasion had food thrown at me, have been told to "f*** off" and had insults such as "fat bastard" yelled at me from car windows and I'm sick of it.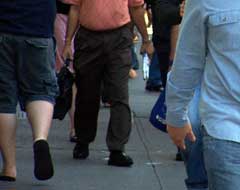 People everywhere regardless of their weight, size and body shape deserve to be allowed to live their lives as they wish without persecution. I don't go around insulting other people no matter who they are or how distasteful I find them.
Live and let live I say. I just cannot understand how it is that some people seem to think they can say whatever they like to complete strangers. Whatever happened to common decency and simple politeness?
By: Nick
Leave a comment