57 comments Add a comment
I have been a customer of Sky for four years now and despite the fact that our bill mysteriously crept up 6 months ago, or the time they decided I had joined Sky talk plan (even though at the time I was serving in Afghanistan), everything had gone smoothly so far. Anyway, I decided I wanted Sky broadband and as the offer was so good with Sky, I decided I would stay with them.
Unfortunately at the time Sky didn't provide broadband in our town so we had to use an alternative provider. This will obviously be switched to Sky's cheaper service once it is available. Sky couldn't tell me when that will be or contact me when it happens. I just had to keep calling at regular intervals and checking my bill.
It's finally available, so I ordered broadband and received my welcome and line activation letters, but unfortunately no hardware. So I called Sky and they calmly say "oh, we haven't sent it yet." So I'm basically paying for broadband that I cannot use! Eventually though, the new hardware turned up and the installation went smoothly except for the anti-virus, which will not install, or the wireless which didn't work either.
So once again, I had to endure the torture that is Sky Customer Support. After speaking to numerous different people all clueless, I finally spoke to a lady who informed me that the "free anti-virus software" offered as part of the deal, is not compatible with windows Vista. No compensation offered. Can they help me with the wireless situation? No, because the staff are not Windows Vista trained and she then decided to read out the Windows XP help disk which I have right in front of me and have already read a thousand times anyway!
Obviously after having this much fun thus far, I thought I may as well spend more time and money and purchase Sky+ for my bedroom. So I ordered it, spoke to a very helpful man who insisted that as I was such a valued customer, a one off payment would suffice and the box would be mine. I was also to be spared the 10 a month multiroom as we had subscribed to the full package deal.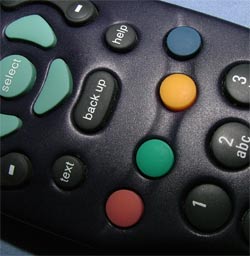 The engineer came round on time, fitted the box and asked for my card to test the system. I told him I hadn't received a new card, so he called in and was advised they thought it was an upgrade to Sky+, so they hadn't sent a card. Okay, so they apologised and a new card was on its way apparently.
I went to my bedroom after the engineer had fitted sky and I realised he had drilled through my windowsill to install the new cables - splendid I thought! Just a little disgruntled at that, I decided to watch Sky and discovered that the box no longer worked.
Back on the phone to Sky now and I found out that they had cancelled my original card and sent two new ones, not just the one for my Sky+ box. "Can they un-cancel that please?" Well of course they couldn't, so for the whole weekend, and most of the next week, I only had four channels to choose from! But that's OK, at least the refunded me 3 for the inconvenience - humph!
Finally, the system started functioning OK and all was good for a while. We had a new lodger move in and he decided he wanted a Sky+ box in his room. After a call to sky we were told he would have to pay a setup fee plus 10 a month for multi-room. I thought this was strange (after the previous installation), so I called back and explained to the customer services rep about the situation and this time they realised their "mistake" and finally offered the same deal.
The engineer comes round again and installs the box. He's a little "shocked" to hear that my windowsill was drilled through last time, the last guy was just "lazy" apparently. Unfortunately, he doesn't have a card to test the newly fitted Sky+ box and so called Sky. Yes, they thought it was an upgrade and the 165 has already come out of the customer account, but the Sky+ box is unusable. Fortunately this time they didn't feel the need to cancel all our other cards.
I went on holiday before this card arrived, the stress of dealing with Sky every day for the past month was too much for me! When I returned the card had already been activated by my lodger. This, somehow, had caused my Sky+ box to stop recording so I got on the phone again and was told that mysteriously, the viewing cards for the Sky+ box and the digibox we've had for 5 years had been swapped on their system, so my Sky+ box thinks its a digibox and vice-versa. No problem, just switch the cards over and everything will be fine.
So that brings us up to date. My digibox will now not play Sky Movies or Sky Sports. My Sky+ box, does not play anything I've recorded, including all the previously viewed programs saved onto the hard-drive. Sky tried to reset the channels and asked me to call back in a few hours. I left it 24 hours, but still no Sky Sports, Sky Movies and my Sky+ box still doesn't work. I called back again and was told his time they are aware of the problem, please call back in 24 hours. I'm grateful that they are aware, I'm 100% confident they will sort it out in no time at all. Really...?
By: Steve
Leave a comment