117 comments Add a comment
Here at The Weekly Gripe we receive a lot of email from people who have had problems with Sky, either the equipment, the service or sometimes the customer complaints department. Occasionally visitors mistakenly believe this website is a means to get in contact with Sky or help resolve issues. Whilst we can't put you in touch with Sky or actually help solve these issues, The Weekly Gripe is always there to help you vent your frustration. These are just a few of the Sky gripes submitted recently.
My gripe is with Sky! I have been trying since the end of November to get a response from their customer services department. No luck so far. They have taken an extra £30 on my direct debit because I changed the date of the direct debit. At no point was I advised by the phone operator that this would happen. When I called them to complain the supervisor I spoke to told me that I needed to e-mail the details in so that they verify. I have been doing this constantly since 27th November and not once have I had a response. I have been to many forums and located many different e-mail addresses gof which I have e-mailed and none of which have ever responded.
Does anyone know any e-mail address or snail mail address that I can get a response from? Has anyone had an similar issues? Any advice or response would greatly be appreciated....
Most annoyed with Sky, AKA Gemma
Sky TV set-top boxes - They tell us all to be more green by turning your set-top box on to standby and that it could save enough power to run a city the size of Birmingham. As a so called self confessed 'carbon neutral' company, did it ever occur to them to put an OFF button on this set-top box? We could run the rest of the country for free if they had done this. Personally, turn set-top box off at the socket every time I'm not using it, as a device on standby can still use up to 50% of the electricity it would when powered on.
Harry Martin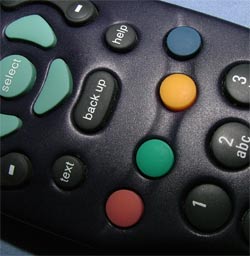 Oh dear, silly me. I thought I could just phone the Sky number on the leaflet and get some information regarding the "Introduce a friend to Sky" thing. I did get through, only to be told to phone another number which I did. After navigating another maze of options, I was eventually put on hold with the most irritating music playing until I gave up and went to the website instead. I came across The Weekly Gripe only to find others with complaints about Sky.
I have finally convinced my elderly mother that she would love SKY, as she is a big tennis fan and would get to watch all the live matches. Having promised to get it organised for her, I now feel committed to pursue this horrible journey through their crap, inefficient and time-wasting 'service' just when I have a million other things I should be doing. Couldn't they try to be more efficient and make the process easier?
Maggie
Credit crunch, downturn, Recession... call it what you like. Most of us are having to tighten our belts and being disabled for the last 11 years this certainly applies to me. So I thought I would contact Sky to ask a question via their website. The automated thingamajig was useless so I typed in my question which was, "Will they send me a Freesat card? If so, can I put into my Sky box and receive Freesat channels so that I can reduce my subscription cost because I can no longer afford £47 per month. Alternatively would they simply change the cost to that advertised on television for new subscribers a week on."
Have I had a phone call from Sky? No, of course not. Have I had a courteous email response? Nope, haven't heard a thing from Sky! Can anyone tell me, if I simply stop paying, will I still get BBC, ITV, 4&5? I'm out of contract having had the equipment for 10 years, can they just switch me off - is that what they do? I don't trust them to tell me the truth!
NOGS
I'm disabled, and getting online to do my banking, contact friends and buy groceries etc. are essential parts of my life. I changed from Virgin to Sky and now wish I had never heard of them. It takes on average 19 minutes to get into my bank account and getting my e-mail is equally bad. Contacting Sky, I am told that I must be using the system when there is a particularly heavy usage, or that I am accessing a particularly popular site. RUBBISH. How is my e-mail a popular site, and why is my bank so busy at 11.30 P.M. that I can fall asleep waiting for a statement? Are all the other poor souls who can't get through any other time trying to stay awake in case there's a slot? This is a slow, useless service, and the only reason I am stuck with wasting my money on it is that I cant afford to pay the rest of the subscription for the year should I leave.
Beredeza
I Have cancelled my Sky account Feb 2007. Direct debit kept being taken out of my account. After 3 phone calls I finally got my money back. Since then I have had 2 bills saying that I owe 250+ After speaking to customer care on a couple of occasions, they said that there was a problem with the computer and that it had been sorted meaning that my balance was now zero. Since then I have been contacted by Wescot recovery services stating that I owe £250.94. I rang Sky again and was told that they were sorry and that they will let Wescot know. I rang Wescot today to check if they had received a call from Sky in which they replied that they had not. I have to ring Sky again today or I am sure that I will have bailiffs at my door soon when I owe them nothing. THIS IS ABSOLUTELY THE WORSE SERVICE THAT I HAVE EXPERIENCED.
Gary Binns
I have been with Sky broadband for under two months and I can say a Sinclair ZX spectrum was more reliable. After at least two weeks trying to log on for the first time, I subsequently find it does not like to log on very often on weekends. As the equipment works when I actually manage to get online, I can only assume the problem is down to a particularly bad Internet service provider who have over subscribed and their system cannot cope. A byproduct of the failings of this company has shown an almost non-existent complaints system!
Mickey C
Leave a comment