159 comments Add a comment
I think that Sky on occasion may treat their customers badly. I work for MGT which is a sub company for Sky, and to be honest with all you people who are having this problem, Sky don't care about you once they have your money.
they will then offer you a free service call
Just a small tip - if you are experiencing No Satellite Signal and you are out of warranty, just say to them that you want to cancel and you will be passed through to cancellations turnaround department where they will attempt to keep you as a Sky customer. They will either offer you a half price service call (decline this) or they will then offer you a free service call. Let them know that you are highly unhappy and suggest that you could maybe get half price TV for the next 3 months it'll work wonders for yourself.
Sky only have a writing department and take 28 days for a reply most of the time. Sometimes they won't even bother to reply and if they do it'll be 3 months down the line! Don't let Sky mess you about, just tell them you'll go to Telewest. They don't want to lose you as a customer so it will have a profound effect.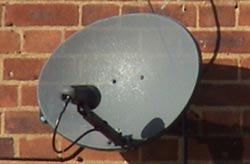 You will never get a Team Supervisor/Team Leader even though "we" as agents say that we'll go and ask them. We just sit there and do nothing because they won't take over the call as they are not really allowed to by orders of BSkyB!
Discuss this on our forum below
If you do get an engineer out for free, he'll just come out and change your box as that's the easiest thing to do. Make sure you get confirmation from the cancellations team that they'll check the following (Satellite Dish, LNB, Sky Box and cabling).
Normally all they will do is change the box which automatically means that your Sky will work for 10-15 minutes then they'll get you to sign the piece of paper then clear off. This of course means phone us back later to say that the engineer has not done his job! You know why? Sky doesn't have a clue how to fix YOUR problem. They can only move the sat dish or replace stuff if that doesn't work then they'll just keep on trying.
Sky can be unprofessional at times and as contractors we are not allowed to tell customers how much the call-out actually costs. We're not allowed to mention any deals etc. to the customers. If I wanted to tell you say... how much a Sky HD box is I would have to transfer you through to Sky Sales, which is probably at least a 15 minute wait on the phone when I could have just told you.
I will try to pop back from time to time and update this site with information on how to do an LNB reset etc. That way you won't need to phone Sky!
By: Anonymous from Fife (Can't say more, otherwise will get sacked!)
Leave a comment