8 comments Add a comment
Over the last two to three years I have been aware of gripes about Onetel's service, but hey, being a regular user off Internet and email, whilst I did have spasmodic problems they were of a minor nature and I found customer services very obliging.
That was until the latter part of 2007 and its been downhill since then accelerating every month at an alarming rate. First the phone service is okay and generally internet not too many problems, but emails - horrendus.
My problems commenced with difficulty caused by the system not recognising user name or password, albeit they have not changed since being with them, this occurred on various occasions and then emails were taking some time to get through, possibly up to 24 hrs, annoying but I accepted, but now they are surpassing all records. I am aware emails have been sent up to 3 days ago and they are still somewhere in the ether (I presume).
Well goodbye Onetel, I have now had enough...
Is this TalkTalk's way of getting rid of customers assuming that some will transfer to the parent company. How can a company that provided a reasonable service be destroyed unless there is an ultimate reason or is it just total ineptness.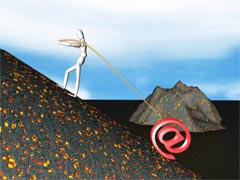 Well goodbye Onetel, I have now had enough. I will now trawl the Internet to find another company that will provide me with the all round service I seek as a customer!
Onetel, do you remember what a customer is there for? Believe it or not, you are supposed to provide a service that meets your obligations for which you collect a reasonable amount of money each month!
PS - I have provided my email address so you can inform me if you publish my gripe - but the way Onetel are going, I may never know...
By: Bill Brown
Leave a comment