220 comments Add a comment
I am fed up with parents who will not take responsibility of their own children. I am a single mother to my 4 year old daughter, her Dad left me for another woman when she was 7 months old. He has done nothing but move from one relationship to the next and now has a one year old and newborn by his current girlfriend. He always seems to have some excuse as to why he can't pay me maintenance. Meanwhile his girlfriend is sat at home breeding and I'm burning myself down to the ground working full time struggling to make ends meet and being a full-time mum trying to provide the best for my daughter.
It really gets me when my daughter comes back from her Dad's with bottles of Ribena and MacDonald's Happy Meal toys and then proceeds to tell me he's only got £10 to last him until the end of the week. Then why go to MacDonald's in the first place. And the amount of times when we've been to Tesco's she points out all these things that Daddy's got from nice food to DVDs. In the meantime, we live off of value meals and anything we can find at the reduced counter and certainly can't afford to buy DVDs.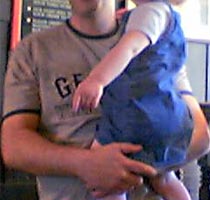 He's not paying me any maintenance
The other thing that gets me is that he chose to move about 60 miles away from me and many a time has suggested we meet half way when he has my daughter. No way, why should I pay for the petrol for his convenience especially when he's not paying maintenance. When he does eventually give me a cheque 9 times out of 10 it bounces.
The final straw was the other weekend when he took the family to a wildlife park on Father's Day and when he brought her back he told me that he couldn't have her next weekend as he didn't have any money for the petrol. Get your priorities right mate, don't spend money on a day out if you can't afford it. There are many places you can go for free and take a picnic with you so you don't have to buy food at the venue. You do not have to spend money on your daughter to make her happy!
Most recently he told me that he's finally got a permanent job and things will be back to normal next month. Normal, what is normal? He mentioned that the wages aren't very good and proceeded to tell me that he's been in contact with the CSA and should only be paying me £26 a week. Well he's seems to have forgotten that he hasn't given me anything for the past 4 months anyway. What planet is this guy on!
I just wish that he would settle down and face his responsibilities instead of swanning round like he's got money when he hasn't got two ha'pennies to rub together.
Leave a comment