67 comments Add a comment
I am 28 years old and the single mother of two adorable, well-mannered and well brought up children. I do the very best I can for them, emotionally and spiritually but financially it can be a bit of a pain. I have just started my own business and attend university too, but believe I am a good mother with all our best interests at heart. I do not want them to ever think its OK not to work while you are physically able so I hope to prove a good role model to them.
Their father and I split up over 6 years ago, and to this day hasn't paid one penny in support. He is now in another relationship and has a son to his current partner who is claiming every benefit she can lay her hands on. I have tried claiming maintenance through the CSA, and although he has a very well paid job (close to £700 per week), his boss is very understanding whenever they get close to catching him, and lays him off for a week or two so he can claim dole and not have to pay.
he expects me to take the children to his home 50 miles away
On top of this he expects me to take the children to his home 50 miles away whenever he feels like seeing them. And I, thinking I was doing right by my children went along with this, at least up until 6 months ago when I found I couldn't quite afford the train fare if I wanted to get the weekly shop at the same time.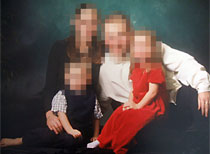 He refuses to come and get them from our home, claiming he won't spend any time with them if he is travelling and won't budge on the subject. He didn't even send the children a card or present at Christmas as it was too time consuming for him. I have contacted solicitors to try and come to some arrangement over contact, but he has ignored every letter, though he and his partner have given me abusive texts and phone calls whenever he gets one.
my children have not seen their father for 6 months
One letter sparked off a whole new argument, and it emerged that he wasn't supposed to be living with his partner as she was on so many benefits, and they were committing benefit fraud. I was accused of "grassing them up" and that they would make me pay for it. I worked it out that those two are living on about £1000 EVERY WEEK while me and the children survive on almost £200 if takings are good. Perhaps if he paid the maintenance that he can definitely afford, I might be able to afford the train fare. Then again, I don't see why I should make the effort to take them to him. They are his children so he should take the initiative and come and get them.
As it stands, my children have not seen their father for 6 months, I'm skint, and he's coining it in. Am I doing the right thing? I don't want to give in, but I don't want my children missing out either. Rant rant rant rant...
By: Kit
Leave a comment