44 comments Add a comment
I am a postgraduate student who was recently involved in a study on the attitudes that people have towards single parents and other areas of the non-traditional family. For example there is a general assumption that they are all jobless teenagers with a council house, when in fact these are probably only a minority. The majority of single parents have in fact gone through a divorce or a long term relationship breakdown.
Male single parents are also never even considered to be part of this model of 'single parentdom'. Single parent men, even though they are in the minority, do not feel that they are discriminated in the same way as their female counterparts. They are often even seen as heroic. Any person who raises a child on their own is surely as valid as another person of the opposite gender.
The majority of the claims people make against single parents are unfounded since the majority of single parents work in some form of paid employment. In fact if a single parent works and receives any form of tax credits, this is often frowned upon. However, if a couple have a child (or children) and one parent goes to work and receive the SAME amount in tax credits this is somehow acceptable.
A lot of people questioned also state that single parents should NOT expect child maintenance once a relationship has ended. Is it not the case that BOTH parents have responsibility to care for their child emotionally, practically AND financially as much as reasonably possible as long as a parent is fit to do so?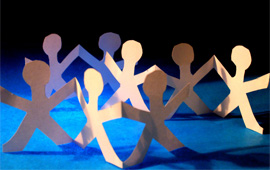 People who make discriminatory statements about race, religion, sexual orientation and indeed, single parents, tend to be uneducated, prejudiced and unable to cope with the notion that anyone who has a different life to their own or what they see as a 'traditional household' of a male and a female with children. However, homosexual couples are now able to have children and they obviously have an absence of the opposite gender within their close family unit...
I wonder if the same people who make derogatory statements about single parents would have the same to say about other types of non traditional family? Surely peoples' situation should be taken on an individual basis rather than people being lumped into a category and judged and vilified? There will obviously be some single parents who are poor parents with a poor character, as there will also be married couples who have the same character faults. Many people do not seem to be able to comprehend that it is a MINORITY character trait within a demographic and focus this disdain on the demographic as a whole.
Obviously this is not ALWAYS the case, however, while racism or sexism is quite rightly being eradicated, poor attitudes and discrimination against single parents appears to remain more acceptable in society? Surely any type of snobbery towards any demographic of society is not helpful and will keep the demographic down?
I will find it very interesting to read any responses to this.
By: Linz
Leave a comment