478 comments Add a comment
Still Guilty according to the CSA, does that sound like you too? I'm a hard working person that comes from a hard working family. I decided to head off into the big wide world of life, meeting new people on my way. I met a girl and had a 'thing' with her for a few weeks. She sadly dumped me, telling me she wanted to see other people. Yet she would still get drunk and knock on my door late at night. She got pregnant, and pointed the finger at a guy she was sleeping with. I moved on with my life, not giving it a second thought... Then one year later a brown envelope came through my door. It said that I was a non-resident parent and I had to fill out a few forms about my financial situation. I went to seek legal help, and they said I had to do it. I shouted from the rooftops that this kid wasnt mine, but I have to come up with £200 for a DNA test. I can only just pay my bills and if proved I am the father, I have to pay 15% of my income after tax.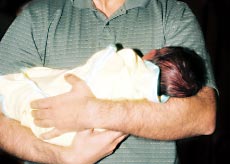 How can people sleep at night knowing that men are being treated in this fashion, like a walking wallet? Kids would never starve or be mistreated if we didnt pay. The government would help them. So why are they playing on the heartstrings of the population? In my situation I am being taxed for something I had no intention of bringing into this world. She had a choice, and if she were honest from day one, things might have worked out differently. We could have talked about it, and weighed up the options.
I dont sleep; I lost a woman I love. All because of the stress and torment this situation is providing. I'm refusing to pay because I am in essence being held at an immoral gunpoint. In retrospect yes there is a child, yes it could be mine and yes it has a life and has a right to have a father. But I never wanted a child at this point in my life, she did. For being immoral this woman now has an easy life. Bring up a kid on the social, come up with excuses so she never has to work and there she will be. No questions asked.
Why are we letting society go in this direction? We are after all British, we have won wars and many other countries model themselves on us! Isnt it about time to get rid of this unfair system, which must surely be against human rights? I'm pretty sure that there are a lot of guys out there that really love kids and wont be able to relate to me. But Ill say to the others, your not alone guys!
To the mothers that are pointing fingers and thinking that you can get a free trip in life Watch out, because the tables will turn!
By: thefox01
Leave a comment