26 comments Add a comment
I am usually one for a good shop - especially for food, however this Christmas at Tesco was possibly the worst shopping experiences I have ever had.
The day prior to Christmas Eve I decided to take a trip to my local Tesco Extra, expecting it to be busier than usual I decided to allow some extra time for my trip. However, the scene inside the store was hellish. It was absolutely hectic with people everywhere acting crazy and just grabbing everything in sight.
I am usually a calm and relaxed person and usually it takes a lot for me to become angry - but by the time I had completed my shopping I was absolutely fuming. The people were rushing down all the isles with no concern for other customers. At first I was quite courteous and allowed people to pass me. This was until I realised that out of the people that I had been courteous to (approximately ten), not one single person said "thank you" or even acknowledged me. How rude can people be?
Shopping nightmare at Tesco - It was as though I was totally invisible...
It was as though I was totally invisible and after half an hour of being jabbed in the leg by trolleys and hand baskets I was totally foul mood.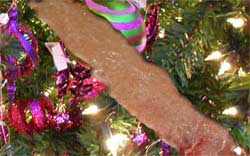 As if this was not enough - there was barely any fresh food left by the time these locusts had ravaged the shelves. Looking forward to cooking a delicious chicken curry I sought after some chicken breasts, however when I eventually got to the poultry isle to my amazement there was not one single pack of chicken breasts left! There was no bread and barely any milk. This may have of course been my own fault for leaving the shopping so late, but this was just the icing on the cake.
As a result of this I have a new rule - in order to avoid a nervous breakdown and bruises on my legs after shopping, I will no longer shop at Tesco at busy times!
By: Janette - Barnsley
Leave a comment