19 comments Add a comment
I needed to buy a few items this morning including a bottle of wine and as I needed to have it cleared by a staff member I decided to use a regular checkout instead of the self-serve machines.
There were two people in the queue already. One was a man in his early 50s who was evidently nearly finished and there was just one woman after him. It seemed like an easy choice to go to this till.. This guy looked like one of those typical "nothing to do" anorak types. He paid but made no attempt to clear the packing area for the next customer.
The woman's shopping was sliding down into his shopping and she was trying to juggle her items and bags in the roughly half space that was left to her. She appeared to be annoyed by this but was polite enough not to say anything. Finally, she got her shopping together and left. As I was the next customer I stepped up to the woman at the till and said "Good Morning". Anyway, this guy is still there dithering, moving his shopping about putting things in and out of the bags. I stood there for a few moments waiting for him to finish, but it seemed he was in absolutely no rush to go anywhere.
I said to him "Are you planning on moving anytime today?"
I said to him "Are you planning on moving anytime today?" His response is not one of an apology for holding people up. "What's the problem, I'm not in the way" he said. "Yeah you are, I want to get my stuff packed" I replied.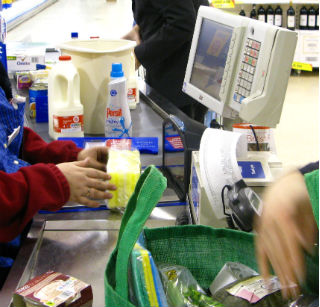 As this conversation was occurring the woman on the till jumped out of her seat like she'd been shot out of a cannon and it turned out she had run off to get security. I was quite surprised at that because the guy had responded in a way that seemed quite antagonistic, but not overtly aggressive. Anyway, he finally shuffled off with his shopping and I patiently waited for the cashier to return.
She returned with a security guard and I told them there was no problem, nothing to get worked up about. She then pointed at me and said "This man has been very, very rude to another customer". At that point the security monkey told me "We cannot serve abusive customers". Now I am absolutely amazed at at this response, but but know that there is absolutely no point in trying to argue the point with this kind of person. I looked at the woman cashier and and asked her "Do you not think you are overreacting slightly?", to which her response was "He was just an old man..."
He wasn't an OLD man, he was only a few years older than me! To me it seems indicative of this attitude that any king of expression of frustration is labelled as abuse. I was pretty shocked to be honest and will certainly not be spending my money in that establishment again!
Leave a comment