19 comments Add a comment
One thing that really annoys me is people who block your path when you are trying to get somewhere or do something. They don't do it deliberately I'm sure and this might come across as me being a bit petulant, but its one of those things that I find so frustrating. The shopping centre can be a stressfull place at the best of times.
In particular, why is it that some people stand right in the middle of busy shopping centre talking to other people and so blocking the path of other shoppers. There are cafes around that they can go and sit in or benches to sit on but no they insist on blocking everyone else's way.
How irritating. My husband and I were recently shopping in Asda and two women who work there were standing blocking the aisle with two huge crates full of groceries and so my husband rightly had a bit of a go at them. It is just sooooooo annoying!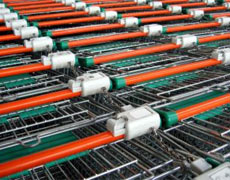 Similarly, people that put their shopping trolleys in stupid places. They're busy trying to decide whether or not to by the low fat cheese, but they've stuck their trolley right in front of them along the counter blocking you from getting at the produce.
You basically have to stand around waiting until this person decides to mosey off somewhere else before you can have a look at the shelves. It's almost as if they're completely unaware of people around them.
It's not a big thing to complain about, but I wish some folk would have more consideration for others when they are out in the supermarket etc. It's nice to be able to go around in your own little world when you're out doing your shopping, but you get in my way when you do!
Leave a comment