37 comments Add a comment
If you buy your shopping at Tesco in Bedworth and you're one of the people I'm talking about, have some consideration for others for goodness sake.
We all like to get a bargain now and again, and when I say all, the important bit is ALL of us, not just YOU greedy selfish scavengers! Most of you probably know this already, but later on in the day many of the big supermarkets start reducing produce that is close to its 'sell by' date and in the early evening the discount is quite considerable. Some foods such as fruit, vegetables and bread are reduced by up to 90% - which is great if you can find something before these 'locusts' have come in and snapped up the lot.
I have no problem with people going after a bargain, but when you take everything in sight whether or not you need, that, to my mind that is just abhorrent and there's absolutely no call for it. Seriously, what ARE you going to do with 5 cooked chickens? I don't for a minute believe that you have a family that big, more likely you are going to feed them to your dogs - which is extremely selfish indeed. You couldn't just take one, or even two could you? You have to deny 4 people a nice dinner because you want it all... you selfish pig! I actually saw this same person on another occasion with a basket FULL of cartons of strawberries (10p each I think they were). Is he going to eat them all before they go off or is he intending to make a hell of a lot of jam!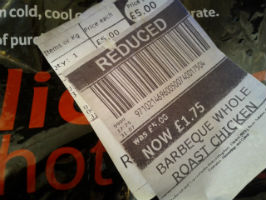 The same half a dozen people hang out there every night and it's not a case of them swinging by after work to pick up a few bits and pieces as I do. Some days I'm there on a Tuesday or Thursday, some days it's a Wednesday, but no matter what day I'm there I'll practically always see them and they're always in the same place waiting for the staff at Tesco to bring out the reductions.
When that poor Tesco employee brings along the trolley you should see the frightened look on their face as they are almost immediately engulfed with arms and legs everywhere, people snatching what they can and practically fighting over the packages until they're all gone. It's quite embarrassing and if you're too polite (I guess I am) then all you get to see are empty shelves. As for three Indian women who can be found camped out in the corner where the fruit and veg reductions are taken. Well... you don't stand a chance there because there's and army of little helpers (children) who make sure that you can't get near anything until they've picked it clean.
It's just disgusting behaviour in my opinion and it's very unfair to everyone else who shops there, myself included. I wish the staff at Tesco Bedworth could do something about it but I suspect they are pretty powerless to act. You can only vary the time that all this happens by so much and it probably wouldn't do any good because the scavengers will just hang around regardless. Perhaps a limit on the quantity of individual items would be a good solution, although I don't know how they'd enforce it. Well at least I managed to get a bargain for dinner this evening in the form of a cooked chicken. Presumably left behind because they couldn't read the label as it was upside down - no doubt knocked over in the scrum!
Leave a comment