102 comments Add a comment
People are really like sheep aren't they' I mean they will literally follow everyone else and not think for themselves. "I've got to have an iPod mommy, because everyone else has one and I've got to buy my music on iTunes too because otherwise I'll be a freak and Jayne and Timmy won't talk to me anymore!"
You buy your 32" Sony widescreen television screens from (insert high street store of your choice), you subscribe to sky, the BBC and whatever else next door are in to. You have to make sure you've bought your house, where's the best place to buy a house, send Jimmy to Montessori so he can grow up and be a good little consumer like mommy (stay at home breeder and Betterware rep) and daddy (works a boring 9 to 5 and doesn't care as long as he can play around without the missus finding out).
You have a PC bought at Time or PC world and it's got Windows or Linux or Apple doo da operating system of the month on it. Who cares, you're buying the stuff and still doing it because someone says you have to! You've got to install the latest software and get the latest upgrades, because you're told to.
You've got to shop at the designer stores, no actually scrub that; you've got to buy your clothes at Oxfam and Help the Aged, because that's the latest cool thing to do. Yes, every one else is doing that now aren't they. Don't forget to recycle and take your clothes to the clothes bank, that way they'll be ready for the next batch of sheep in some third world country!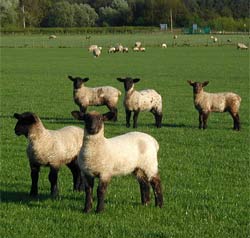 You can't think for yourselves...
You buy the latest consumer gadgets, because your friends and people you touch every day make you feel you HAVE to. You don't want to stand out in the crowd now do you? You beat out the same worthless existence and worship the same crap religion everyone in your section of toy town do, probably because you don't know any different and why would you?
Maybe it's the fault of the media, maybe it's because of religion, or there again it could be the lack of religion in society. Maybe it's because of THAT religion. Yes, I've got your attention now haven't I? Anyway - this isn't a gripe about religion. I think it's probably best that we save that little chestnut for another day.
No, it's plain and simple. People are just sheep and they're pretty stupid sheep as it happens. You do what you are told and you do it when you are told, end of story. You can't think for yourselves and you don't even realise that you've got a choice.
You believe everything that you see and hear and you no longer question the source. Even the wide availability of that classic movie Nineteen Eighty Four and the message it carries is completely lost on you.
Bah!
Leave a comment