57 comments Add a comment
Tesco used to significantly reduce the prices of items that were close to their sell-by date, but these days it's hardly worth the bother looking in the reduced section and hunting for those yellow stickers. They're no longer the bargain they once were.
I have also noticed that they seem to reduce the price of goods a lot earlier than they used to, sometimes several days or even a week before the sell-by date. I think the price reduction is really stingy though and even on the last day, they rarely drop the price enough to make it worthwhile.
I'm on a pretty low income as I am self employed so I need to buy the reduced stuff and the Tesco Value products most of the time. It used to be the case that you could find items that were reduced to nearly one third of the original price. Bargains such as these would be snapped up rapidly and you'd be in a race with the pensioners and single mothers to get there first. I usually lost though because they're canny creatures and know how to use their elbows! Okay, maybe I exaggerate but the shelves were generally emptied as soon as the reduced items appeared because they were REALLY reduced.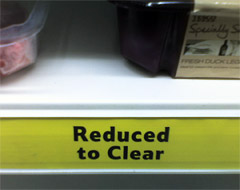 lucky enough to find something with a third off...
Now when I go to our local Tesco the reduced counter is always pretty full and there are plenty of yellow stickers, but a few pence off here and isn't much of an incentive to walk past Iceland now is it? If rummage around enough you might be lucky enough to find something with a third off. But that's about as good as it gets!
Come on Tesco; let's have some real price reductions because you know, every little helps!
Leave a comment