38 comments Add a comment
I had not even exited my car when it was hit by the infamous abandoned shopping trolley in windy weather whilst at the supermarket this weekend. When I got out and had a look the damage was quite bad, more than a little scrape. At the time there was no Trolley Assistant in the vicinity and when questioned about why, I was told that he was on a break.
As expected, I have had no joy from Tesco when I complained about the damage their shopping trolley caused to my car and will have to repair the work myself or via my insurance company.
After searching through the websites it seems the Tesco Trolley is rating quite high in the 'Supermarket Shopping Trolley Car Damage Pole'. This alone would make me question why Tesco have not introduced the more sensible £1 return trolley system across all branches of the supermarket.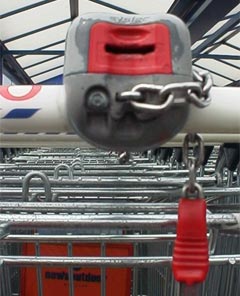 I understand that some members of the public are just lazy. Something like this should ensure that they return their shopping trolley after use, but on the other hand, I feel that a supermarket should be ensuring the safety of not only their customers, but their cars too.
If this abandoned shopping trolley, which coincidentally, hit my car in high winds, had hit my son or anyone for that matter, then is Tesco still not liable for an injury sustained from one of their trolleys? If someones car had rolled into my car in Tesco, then are they not liable for the damage to my car? Would we not exchanged insurance details? Surely when a supermarket gives access to the pubic then the road becomes a "public road" and falls under Road Traffic Law? Also, surely the trolley attendants should be more vigilant during windy weather and take steps to prevent them from careering around the car park causing damage?
I ask you, is this a lost cause or should I pursue for some form of compensation?
By: Joanne
Leave a comment