55 comments Add a comment
I dread going shopping at the big supermarkets such as Tesco where they don't operate a deposit system. You know the one where you have to pay a £1 to use the trolley. Sometimes you need to go and buy a token but the idea is still the same.
You might be asking yourself, why is it such an issue for me? Well, it's the lazy gits who don't put their trolleys back that cause me to loose my temper.
How many trolley scratches has your car received recently because of some idiot just leaving their trolley in the car park? This is a real problem when it's a windy day or there is a slope. It basically means the thing is just free to just bounce from car to car wherever the wind or gradient may take it.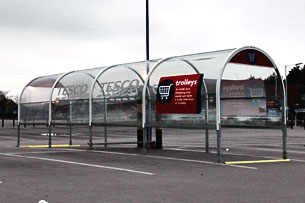 It's just selfish and irresponsible behaviour leaving them there like that. For goodness sake just take it back and park it in the bay where it's supposed to be left!
There's another thing that the deposit system could help to put a stop to. People who steal supermarket trolleys and then dump them in the street or in a nearby river. How many times have we seen that? I'm sure they'd soon quit if it cost a pound every time they wanted to push their drunken mates up the road in one.
Leave a comment