78 comments Add a comment

Here's another thing that gets on my nerves about supermarket cashiers (believe me, there's a whole list of them, but this one will do for now).

When it's busy and I'm trying to fill my shopping bags as quickly as possible, sometimes the cashier will have a grumpy look their face as if they're thinking 'push off love, you've taken up enough of my time, we've got our greedy mitts on your money and now there's another customer waiting.' Well, there may well be another customer waiting, but so what, I was waiting my turn too wasn't I? I'm not frigging royalty!

Then they make me feel even more flustered mid packing by thrusting the receipt under my nose. They sit there continuing to hold it out whilst saying: 'here's your receipt...' Well how observant of you! Yes, I do know that's my receipt love, I'm not that dim - duh!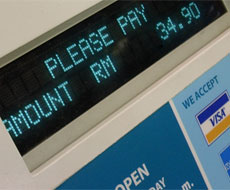 I'm then forced to stop packing and take the receipt before I can continue with my packing. If I've been served (if it really be described as 'served') at one of those counters, where there's only a tiny space to pack, my shopping bag can occasionally tip onto the floor and the goods fall out. This is a more likely outcome if I'm unable to secure it because I'm taking the receipt. On the other hand, a break in concentration means that a small item that I did have my eye on to pack before I was rudely interrupted, remains buried under a pile of plastic bags and gets forgotten about altogether.
Why don't cashiers just place the receipt down on the counter so that I can pick it up as soon as I've finished packing my shopping? Better still, just pop it into one of the bags I'm loading. It's so rude to pretend to give service (don't forget your receipt) when, all the while they are trying to get rid of you as soon as possible (push off now). Every time I shop I have to instruct them to put the receipt on the counter.
One cashier even had the nerve to tell me that it's part of their training and they aren't allowed to place it in on the counter; I have to physically take it out of her hand. What absolute rubbish. Grrrr!
By: Grumpy xx
Leave a comment