20 comments Add a comment
Our local Tesco used to have Haggis and it could usually be found alongside the sausages, black pudding and bacon etc. However, since the old store was torn down and they rebuilt a brand new Tesco Extra few months ago they no longer have any. I should probably point out that I now live in the heart of England which means that it's not exactly practical to nip over the border and catch one whenever I feel the urge to have a spontaneous Burns Supper!
I'll give credit to Tesco where it is due though, because it has been quite difficult to buy Haggis down here over the years and more often than not I used to bring a few extra back and stick them in the freezer so I'd always have some when whenever I wanted. I know you can buy it at some butchers, but the ones that do it aren't all that common. I discovered that Tesco had them in stock a few years ago and they were usually pretty reasonably priced and fairly authentic, so my suitcase on a return trip to Scotland didn't bulge quite as much as it used to, and for this I am grateful.
Come on Tesco, make space for some Haggis!
Now back to the Tesco in the town where I live now. As I said, they used to have Haggis but since the rebuild they no longer have a space on the shelve for it and it is nowhere to be seen. I'm not sure if this applies to other stores or if it is just ours, but I know for a fact there's a fairly large population of Scots in our town and the Haggis used to sell very well all year round.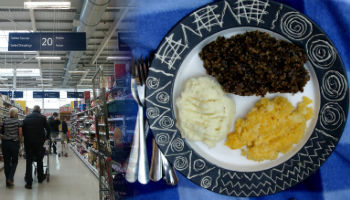 'Okay, so they don't have it any more so move on..' you may well be thinking. Well the reason this irks me so much, and the reason for posting this gripe is that whilst they no longer appear to have room for a well known Scottish delicacy, they have no problem dedicating an entire isle to Polish and Asian foodstuffs in the news store! I've seen the odd person walk down and have a curious look, but I've never seen anyone actually pick anything up in the Polish section.
Come on Tesco, Scotland is only a few hundred miles away. Is it too much to ask to shove a few of your premium sausages out the way and make space for some Haggis?
Leave a comment