43 comments Add a comment
I've been married for only two years, I'm 34 years old and my wife is 31. We have been together for a total of 5 years. Up untill eight months ago everything was just normal compassionate sex, caring thoughts etc., just plain enjoying our life. She then started to find fault with relationship when there was nothing wrong. She would say "things just don't seem right" and she wouldn't explain any further.
I thought she was just going through a phase so I let it slide, but about two months ago I noticed she was receiving lots of text messages from "work". At the same time I also noticed that our cell phone bill had sky-rocketed and when I examined the bill closer, I discovered that she was texting 600-800 times a month and all to the same "work" person.
The next time she received one at night I looked at the phone and the text message said "Alright". I then looked at what she sent in her text and it said "Enjoy bowling, think about me a little". Another message said "make sure to delete all your messages". So I asked her directly what was going on and if she was having an affair (without showing her the phone of course). I said "Is there anything going on between you and this person?". She said "No, why do you ask?", to which I replied, "Are you sure, no flirting, nothing at all?". Well of course she denied anything was going on so I showed her the phone and her mouth quite literally dropped.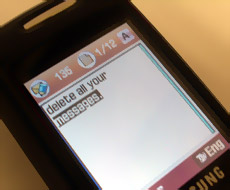 From that day on there were many more lies, so I left her and she hasn't made any attempt to get me back into her life. After all the horrible words and the lack of trust she decided to ask for a divorce. As it happens we both work at the same place and one night I ended up having a "fling" with someone else from the same company. I felt bad about what I had done so I was completely honest with her about it, her only response was "Did you use a rubber?" I had at least expected her to be a little bit upset, but it would seem she has already moved on and no longer cares.
Since all of this has happened I just can't eat. I have gone from 195lbs to 165lbs in just two months. I love her more than I have ever loved any person, but at the same time have never been lied to way that she has lied to me. I've tried to stay positive about who I am, but I can't help wondering if anything was going on then and is she doing anything now. I'm very broken hearted and I wish the pain would just go away and let me get on with my life. Can anyone help?
By: Broken hearted
Leave a comment