24 comments Add a comment
My girlfriend and I had steady relationship for two years, ever since our senior year in high school. We both loved each other the entire time, but in being from a strictly militant family, I was hesitant to show all but the smallest signs of affection. I rarely told her I loved her, but all the same, I know I did love her. In this, I am guilty... not showing my girlfriend the amount of time and affection she deserved.
Time passed, and we were getting close to our two-year anniversary. Everything seemed to be going well, even according to people close to both her and myself. The only thing that really changed was the fact that she started hanging out a LOT more with a guy from her work, who also happened to be a friend of mine. I thought nothing of it, sure that that there was nothing wrong with our relationship.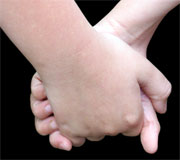 Desperate measures failed to get girlfriend back...
I was wrong apparently. In the early hours of Sunday morning on October 7th, she called me and informed me that she was currently sleeping with (literally) my friend Mikey. She went on to cry a small amount, and informed me that we were over, and that she didn't wish to speak to me for a while. Even my most desperate of measures failed to get my girlfriend back, even though I now realize that those measures probably appeared to be a bit stalker like.
The heart of the entire matter is, though, she still seems to want to contact me, no matter what she says. At least once a day, I get a text from her complaining about something that went wrong when we were together, but she said she didn't wish to speak for a while. She also doesn't seem happy with this new guy.
All in all, I still love her dearly and I was going to ask her to move out with me when I go to law school, a drastic move for a 20 year old! Even now, she still claims she is single, even when her "boyfriend" says otherwise. She did something horrible to me, and yet I still want her back. What do I do?
By: Troubled
Leave a comment