13 comments Add a comment
Last week it was my graduation ceremony, a day that would be memorable and it was spoilt by little babies and toddlers screaming. Universities say that graduation ceremonies are not suitable for children under 5 years old because such a ceremony requires people to sit still and be quiet for an hour (or two) which is not going to happen with children in that age group. What they are saying is not unreasonable either, because you can't guarantee that they will keep quiet throughout and won?t get bored meaning they will play up during the ceremony.
Children - they need to sit still and be quiet
When I was in Guildford Cathedral for my graduation ceremony I saw quite a few people bringing in young babies and toddlers. I understand that maybe some these offspring are students' children and they want to see their mummy or daddy graduate and get their certificate, but if the university says unsuitable for under 5s then they say it with good reason. They are not saying it is unsuitable for older kids because they would expect kids over 5 years old to be at an age where they are understand that they need to sit still and be quiet for a long period of time. It is under 5s who are unlikely to understand that because they are still young and developing.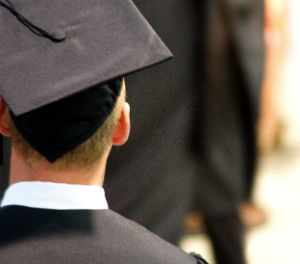 They are not saying that under 5s should be excluded from the whole graduation day itself because there are places that the little sprogs can go to that are more suitable for them. The cathedral green outside is nice for the little tykes to crawl or run around in as it is an open space. Better than being made to sit inside for a long time til they show boredom. Also there is limited space in the venue so I think my university should not allow children under 5 to attend the ceremony itself but can go other parts of the place with an adult.

The university could make a creche specially for the under 5s and set up a screen or something so they can still see their mummy or daddy on video, that way they don't miss out on the ceremony itself. Or they could make a segregated 'under 5s' section at the back near the entrance so that if a baby/toddler causes disturbance for others then the parent/carer can just take them out until they calm down and then bring them back in.

At my ceremony, there were a few babies and toddlers shrieking the place down. I thought to myself this not a creche this is a ceremony which requires attendees to sit down and be quiet. If they can't do that then they should be made to leave. Some parents did not even bother to take their child out when they were being very noisy. Also speeches are being read out and it sounds rude if someone lets their child make such a racket that the audience cannot hear what is being said. One university has made the decision to ban under 5s from the attending the ceremony only after receiving numerous complaints of what was meant to be a memorable occasion being spoilt by people's offspring. It?s not like the tots have asked to attend, they are just being made to go and I?m sure they?d rather be playing somewhere...

I did notice that there were more little children outside than inside which shows that some parents knew what is best for their children as well as other attendees. It?s just the ceremony itself that should not allow under 5s. Ath the reception afterwards everyone is welcome to join in the celebrations. If the ceremony was outdoors then it might be a different matter. A graduation is meant to be a memorable day and it can definitely be ruined by screaming little children and their parents who do very little to quieten them. Please arrange childcare for such an event so that you don't spoil it for others, especially if they don't have small kids of their own.

By Angry Autistic Female



Leave a comment