97 comments Add a comment
Is there anywhere I can go that I don't have to suffer the racket of hyperactive kids? They're either bawling non-stop or running amok while the parents take no notice of them.
Fine - they may be used to it but I'm not, and I'm cheesed off with going out to various places where parents tow their kids along because they can't be bothered to be considerate or attempt to keep them under control.
The worst case is at a 'quiet' restaurant. There's often a constant mouthing off by little brats charging about that makes it impossible to hold a conversation and enjoy the place.

Many of these parents have no idea how to behave in public themselves, so it's probably asking too much to expect them to understand that other people don't want noisy brats inflicted on them.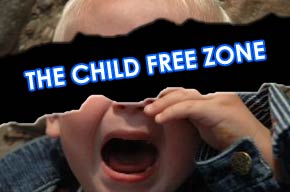 I wish that they would all just go home
I wish that they would all just go home so that others can live in a more civilised society. Even in supermarkets the aisles are full of pushchairs or toddlers in trolleys mostly crying or yapping non-stop.
Beating the parents with a big stick is too good for them I reckon; give me a heavy axe or a chainsaw please and Ill sort them. Who wants to name and shame? Better to maim and shame. Maybe they'll stay at home then!
By: Andromeda
[ Gripemaster says: A bit over the top there Andromeda, but I can sympathise with SOME of that! ]
Leave a comment