37 comments Add a comment
Why is it that people are no longer capable of sitting in a cinema for the length of a movie, even a relatively short one, and keeping their mouths shut? I refuse to go to my local flea pit as I am always surrounded by morons who think that they are sitting in their own living room and proceed to talk all the way through the entire movie.
When you try to ask politely if they would be quiet they either get abusive or talk even louder. As for the young ones, well, we mustn't tell the little darlings off as it is a 'PG film'.
This is what I was told by a mother when I asked a group of boys old enough to know better who talked and sang and were a general pain in the rear. Hey, if you want to talk to a movie why don't you wait until it comes out on DVD, play it in your living room and talk to your hearts content, leaving the rest of us to enjoy movies at the cinema in peace and quiet.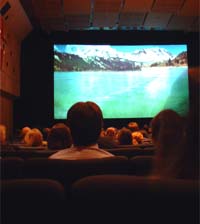 One more thing about kids in cinema. I went to see Pirates of the Carribean 3 and Spiderman 3 recently. On both occassions parents brought in children that were far too young to be there really. There was even a young baby who yelled and cried all the way through the film - it was a complete nightmare!
All the mother did was occasionally mumble to the little one to "be quiet". Of course they were presumably hungry or something and carried on crying regardless spoiling the film for anyone sitting nearby. Why did she not either get a sitter for the evening or go to one of those special parents movie afternoons that some cinemas have?
At one of these occasions I have just mentioned we actually gave up after 10 minutes trying to watch the film without success. We eventually walked out and asked for our money back. I started taking my daughter to see movies at two years old, she was always well behaved and at 16 now dislikes ignorant people at the cinema as much as I do.
By: Damfino
Leave a comment