26 comments Add a comment
Something has to be done about unruly children in public buses.
Since when did buses become 'mobile playgrounds' where parents feel they can turn a blind eye to their child's disruptive behaviour and leave it to somebody else to look out for their safety? Or to cause the other passengers on the bus a considerable amount of stress, which is something they could probably do without on their journey.
However, if the driver were to slam on his breaks to avoid an accident, or the bus came to a very sudden stop, then it is automatically the driver's fault that a child being left to run around unattended has suffered an accident - not the parent's fault.
The same goes for early morning buses. Work is stressful at the best of times for all of us and the last thing you would want to hear first thing in the morning, or last thing at night is a screamer throwing a tantrum - especially if you don't have children yourself. Why all the fuss? Because they didn't get the toy they wanted at the shop, or because someone else pushed the buzzer before them (even though they have pressed it a dozen times in succession since boarding the bus twenty minutes before. Or maybe they saw a train pass and nobody will listen to them, so they keep repeating that they saw a train until somebody responds.
Even more worrying is the way that some of the parents respond to their children, that is if they aren't the type to ignore their unruly behaviour. Sometimes they act worse than the child themselves and cause an even bigger scene.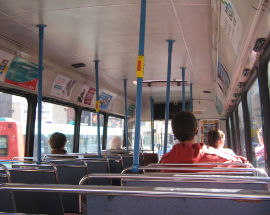 Yes, your children's manners may be acceptable in your own home - but please remember you are on public transport and not everyone can cheerfully ignore the sound of your kid having a tantrum. We want to see happy, polite and cheery children on the bus laughing and having fun in a respectable manner - not children who are clearly selfish and disruptive and causing a scene.
Another issue is the use of pushchairs on public transport and in particular buses. Why is it that some parents think they have the right to use the disabled space for their pushchair over a disabled person? I've even known some to kick up a fuss because a disabled person has dared to take up 'their' space on a bus. Is this really acceptable behaviour?
If this is what the bus services of today are turning into, then why not designate specific buses for children to board where the rest of us can be guaranteed a safe and pleasant journey to our destination without all the added hassle?
By: Sarah
Leave a comment