143 comments Add a comment
Now before I start lets just say that I know I am going to get accused of being a miserable old sod, but I think that this just needs to be said.
I get sick to the back teeth of people saying "He/She's only a kid you know" (normally accompanied by a scornful look). Yes you are right, they are, and as such they should learn consideration for others and respect for those who know better.
Most weekly visits to the supermarket are now just as much about avoiding the sliding child that whizzes past the end of an aisle just as you emerge. Or even the whinging brat hanging of the side of the trolley until they have blocked the whole aisle, as it is about buying provisions for the family.
On a recent visit to a well known supermarket "pats back pocket" I was treated to the unenviable pleasure of synchronising my route with the children of Satan. I suggested to their dim looking mother that she leave them at the other end of the supermarket near the swings and roundabout. "Oh, I didn't know they had them" was the response. "They don't" I said "that's because it's a supermarket and not a bleeding playground".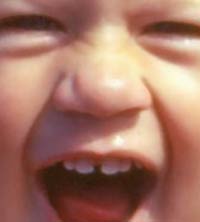 I felt bad for being rude but enough is sometimes far more than enough! A visit to a museum recently was equally difficult. Whilst reading a very interesting exhibit text a loud and brash child decided that the post upon which it was placed resembled a set of monkey bars. I asked the child to move as I was reading (politely I should add) to which the father said, "Hes only playing".
The simmering started and was shortly followed by, " I understand that but I've paid good money to get in here as well and I would like to be able to enjoy my visit too, so please keep him under control". A reasonable statement you might think. Apparently not! I was reported to the staff who asked me to leave as I was upsetting other visitors.
Now, I'm not against children enjoying themselves. I love to see them having fun. I just think that they should be controlled more by their parents so as not to upset or annoy others. Am I a miserable old sod or do others of you feel the same?
By: Old Git
Leave a comment