466 comments Add a comment
I have a real issue with parents with unruly children that misbehave in public. They just allow their child to run amok and do what they like.
I had an appointment to see a doctor last week and was sitting in the waiting room until it was my turn to see the practitioner. I was quietly minding my own business and reading a magazine as one does to pass the time when suddenly, my leg was kicked by this little brat as he tore across the room from one side to the other. His mother meanwhile, sat several feet away from me reading a magazine did absolutely nothing. She just didn't give a damn that her child was being a right pain to complete strangers.
Next thing, the young brat decide to get up on an empty seat and jump his way across the waiting room on the furniture at the same time yelling his head off; still no response regarding his behaviour from his mother. Eventually he finally gets fed up walking over the seats and just stands making faces at me. Presumably because by this time I'm glaring at both him and his mother, wishing either the mum would do something, or the boy would just sit down. The little **** then just trots over to his mum and proceeds to badger her with the 'Mum I want sweets' routine. This actually gets a reaction this time and she hands him a packet of tic-tacs with some vague request to sit still or he won't get any more.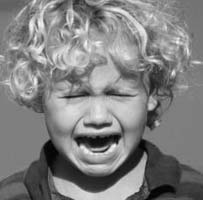 ...in case some busy body reports them to the police
What is this? Is it some kind of reward for terrorising the rest of us? I just can't believe the way some parents let their children do whatever they like in public. Have they no shame?
If it were my kid, I'd have been very cross and had no qualms about publicly chastising him or her. I guess part of the problem could be, that in these politically correct times we live in, parents just aren't able to do that anymore. Too afraid to punish their unruly children for being naughty in case some busy body reports them to the police.
I believe children should be well behaved in public, and it is the responsibility of the parent to make sure that happens. I know that things are very much different for the younger generation these days, but some values are worth holding onto. Respect for elders, good manners and behaviour etc. it would seem are a thing of the past.
Leave a comment