63 comments Add a comment
Noisy kids in restaurants. We've all been a restaurant, trying to have a nice adult or romantic meal, and there's a family with small kids in there as well. Now, I don't have a problem with well behaved children and their parents having a nice quiet civilised meal together. Even a little bit of childish excitement is OK, as long as they don't go too mad. But parents who use a meal out in a restaurant as an excuse to stop being a parent for a few hours really wind me up, more so than the children.
Letting their kids scream and shout, and in the worst case, run about the place screaming. Not only does it ruin everybody else's meals, it's not fair on the staff that have to carry around numerous plates of hot food that they should be dodging kids running around their feet. Or have to stop them from making mischief and take them back to their parents. You know that if one of these kids runs into a waiter/waitress who is carrying a hot plate of food and they drop it on a kids head, the parent is going to go absolutely mental and sue for as much as they can, when their kids comes running back to the table covered in a someones chicken soup.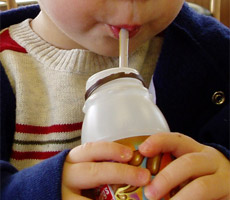 Numerous times I've been tempted to stick out a leg and trip over a child who is running past my table. It might seem a bit severe, but how else will they learn that running around in a restaurant isn't a good idea? Don't deny that you haven't wanted to do it! Harvester's are the worst. I know its a family restaurant, but that does not mean its a child care centre. The waiters/waitresses are employed to take orders and serve food, not look after kids.
My solution, kids should be assessed upon entering the restaurant, if they are deemed to be calm and well behaved enough they can enter, if they walk in screaming or come running in, they should be sent back out again. Either that or no kids under the age of 10 in any restaurants. Go to Macdonalds if you want to let your kids run around and create mischief. Don't ruin restaurants for the rest of us
By: Chris
Leave a comment