37 comments Add a comment
Coming back from London on a Sunday night I caught the 21:44 train from Vauxhall station to Wimbledon. When I boarded the train I saw this family with two children under the age of five who really should have been in bed at home instead of travelling so late on a Sunday. The older one was shrieking in a shrill voice, repeating the same thing over and over, as well as running up and down the carriage while her mother did absolutely nothing to control her.
The baby was in the pram howling and screaming, presumably cranky and tired because it was not at home and in bed. Personally, I don't think it's safe to take very small kids on trains or other forms of public transport so late at night, because you don't know who can be on it at that time. Also, it's not fair on the children who are bored and tired and want to go home, besides, who wants to be on a train late at night and have to put up with screaming kids? Not me that's for sure!
Another time this happened was when I came back from Cambridge. I boarded an evening train and this family brought on a cranky baby who screamed for practically the whole journey - again presumably tired. Why don't these parents board an earlier train so that their kids don't suffer, and more to the point so the passengers don't suffer? I just can't comprehend why people travel so late with young kids, it really doesn't make sense.
I know I'm not the only one who has experienced this because sister travels regularly by train and has had similar experiences where parents let their kids be a nuisance to other passengers. For example when she was travelling home from Brighton, this kid of about three wanted his juice but his mother said 'no juice for the journey' and he threw a massive tantrum for 40 minutes solid! According to my sister, his mother said 'What's all the fuss?'. In fact, it got so unbearable, my sister wanted to go to the next carriage but she thought it would be rude if she did so.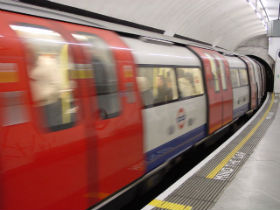 On another occasion during half term she took a train from Wimbledon to Charing Cross Hospital and this boy, who was at an age where he should have known better, decided to press the emergency button and caused a ten minute delay inconveniencing everyone on the train. Why wasn't his father who was nearby keeping a proper eye on what his child was up to? Some parents just let their children run amok on trains.
So often I have seen kids using the tube as a 'playground on wheels' and the parents doing very little if anything to control them. They just run around crazy bumping into things, up and down the carriage and all the while their parents blissfully ignore them. Meanwhile the other passengers just have to sit and suffer. Come to think of it, why are the 'quiet' carriages being used by families when it is hard to keep kids quiet anyway on a train journey? They are supposed to be reserved for those who want a QUIET journey!
In fact, why can't they make 'family' carriages so parents can take their screaming kids in there and let them do what they like without upsetting those who don't want to be near them? Maybe then the rest of us could have a nice quiet and peaceful journey.
Leave a comment