33 comments Add a comment
Now that the child car seat law has been in action for a short time, how many parents have bought the right car seat for their children and enforced their use? For that matter, how many parents think fags are more important than proper and safe restraints?
How can people treat children in this way?
As an HGV driver we see parents all the time letting their kids be used as a tool of abuse by not belting them up in a proper child car seat. I see so many parents smoking, a fag hanging out of their mouths and no seat belts, using a phone and looking to park as close to the school gates as possible.
Now let's think for a moment at the price of 20 fags for 3 or 4 days and you then have the money to buy a proper restraint for the most precious thing in your life. My kids are the most precious and expensive things to me, so the small price of forking out for the child car seat is miniscule compared to their safety.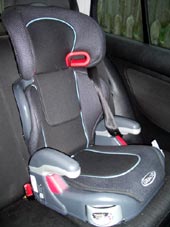 Children do not make very good airbags
How can people treat children in this way? They do not make very good airbags because they tend to burst on impact. I suppose that a child not in a legal car seat is the same as CHILD ABUSE, but there again so is smoking and by doing so giving your children the worst possible start to their lives anyway! Some parents just don't deserve to have children.
Also, I have also noticed that the parents in question (and their children) are nearly all overweight. I have heard that cigarettes were often used by some people as kind of appetite suppressant to help them loose a few pounds - so what went wrong there? It's clearly not working!
By: Andy
Leave a comment