17 comments Add a comment
Well not quite, but going back to that old gripe about women who won't get a round in, some people it would seem are quite happy for you to carry on buying them drinks all night without ever putting their hands in their pockets. For example, I am usually on my own when I attend family gatherings such as weddings and birthdays etc. I will therefore quite often share a table with my brothers, their partners and their children.
The group can consist of about ten people and from that ten, the three women do not ever buy a round of drinks because of some archaic idea that women don't buy rounds of drinks.
This idea extends to their sons and daughters who are a bit older and in their twenties now. Of course because the parents have always supported them financially, they assume that they will also be covered when out socializing at occasions such as this!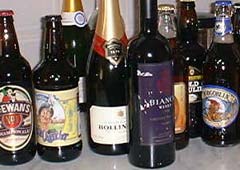 The drinks bill for the evening therefore usually falls on the shoulders of myself and my three brothers. This can be an expensive evening for me as a single person and I feel that I am subsidizing the drinking habits of the entire family.
I don't think that this is very fair really and it would be nice if everyone at the table made an effort to go to the bar and buy a round of drinks. Should I mention them how I feel about the situation or should I remain the mug who's just there to get the beers in for everyone?
By: Mean or Mug?
Leave a comment