44 comments Add a comment
Is it just me or is anyone else fed up with the insanity that seems to grip the nation from November until early January? Houses with more lights on them then a Las Vegas casino, less than well known stars on TV touting the latest food, gadget or Christmas must have. Parents are hassled into spending huge sums of money on presents for their kids and it all seems very far removed from the idea of celebrating the birth of Jesus Christ.
I'm not a getting on my high horse here and I'm not an overly religious person, but it seems like the whole thing has been stolen, repackaged and sold back to us as a festival of eating, dinking and spending too much. Aren't we forgetting the original Christmas message?
I work with people who are Muslims and they say they decorate the house with a tree and tinsel and buy presents for their kids at Christmas so they are not left out. It is no longer a religious festival; it is an orgy of consumerism and over indulgence.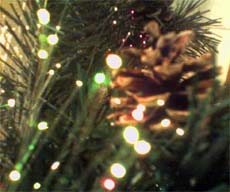 Christmas - an ugly selfish time of year
I'm not against having a good time and enjoying the festive season but Christmas to me has become an ugly selfish time of year. We are bombarded with advertising to spend, spend, and spend some more. Look around at the money that gets spent each year on presents and decorations and food. The retail economy relies on Christmas each year and when you have spent your fill and they have made a tidy profit, they try to sell you whatever is left slightly cheaper in the January sales.
We are forever harping on about falling standards in hildrens behaviour and attitudes, but is it any wonder when the celebration of the birth of Jesus Christ our lord has been turned into this obscene corporate, celebrity endorsed spend fest - I shall from this day forward refer to it as Cashmas
By: Real Christmas Only
Leave a comment