50 comments Add a comment
My new gripe is about retailer logic for requesting proof of purchase. For example, I bought a paper shredder from WH Smiths in October 2008 for around 17.99. It worked OK for a while, but didn't after a while. So I took it back for a refund.
By that time, I'd lost my proof of purchase, the receipt. This was unfortunate, but I didn't think it would matter because the shredder was engraved with WH Smith's logo, embedded in the plastic, so it couldn't have come from elsewhere. The remains of a sticker for 17.99 was also attached.
I took it to an assistant, who told me, quite explicitly, that she had the authority to deal with this transaction. She immediately walked off for ten minutes, without explanation, and returned with the manager. Clearly, she had no authority at all. Mistake 1 - here we go! Mr Manager then agreed that I could only replace it for another one, but I wasn't entitled to a refund or vouchers for the full value without my receipt as proof of purchase. I saw another one, but it was reduced to 14.99 in the sale. I said I would only a straight replacement if I was refunded with cash or vouchers worth 3.99. After all, I had paid 17.99 for it, not 14.99.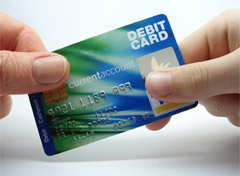 I still couldn't find the receipt but did find an old bank statement that equated to this transaction
Mr Manager flatly refused. It was a straight swap or nothing. No vouchers worth 17.99, no cash refund. With smoke coming out of my ears - Mistake 2 - I told him to "stick it" and took the old one home again. Then I hunted around for proof of purchase. I still couldn't find the receipt but did find an old bank statement that equated to this transaction.
You may know that bank statements don't prove anything. They specify that unnamed goods, worth 'x' amount was purchased at retailer 'y' on 'z' date. It doesn't specify what exactly was purchased. I could have bought a book in WH Smith for 17.99 on the said date, not a shredder.
Nevertheless, I did ring WH Smith back and asked another assistant if this could be be an acceptable alternative to a receipt for 'proof of purchase.' She said yes.
This is daft. I took the old shredder back and got a full cash refund for 17.99 plus a fistful of discount vouchers for books over a tenner.
By: GrumpyOldWoman
Leave a comment