27 comments Add a comment
We've all done it... scouted round the supermarket for bargains, special offers, reduced stickers in order to save a bit of money. Then you merrily take them to the till, walk home and put them away. Whilst you're unpacking your shopping you notice that the prices on the receipt don't match the special offers. Half of them have been charged at full price. That's annoying enough but a few of them were things that you wouldn't normally buy if you hadn't been lured in by the 'reduced' or 'special offer' sticker. This basically means you've actually paid the full amount for something that wasn't all that brilliant to start with!
So why didn't you check it when the goods were being rung up at the till? Well, I was trying to find my purse, find my own plastic bag, unload the stuff, pack it, dodge people taking a short cut through the checkout area and pay. All in the space of 2 minutes before the next customer shoved me out of the way. How many of us can actually say we check the prices of everything as it is being rung up at the till anyway?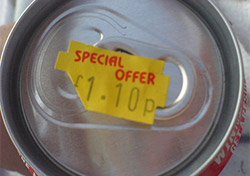 Next time, I'll just buy the usual stuff...
OK - so that still leaves the time when you were leaving the shop. Yes I could have checked as I walked towards the door, but then I was ambushed by charity collectors who relieved me of a pound I couldn't really afford because I was too much of a wimp to say no. So, didn't spot the error until I got home and started to unpack my shopping.
Was it worth going all the way back to point out the mistakes? Probably not really, so they've got away with it again. Next time, I'll just buy the usual stuff and steer clear of the offers. Rant over!
By: fedupinwales
Leave a comment