18 comments Add a comment
Fa, la, la, la, la... do lally pip. Let's be honest, some people are plain bonkers, aren't they? Come the January sales, (which started in November this year as profit squeezed retailers try to crank up sales, following a dismal economic forecast) cash strapped shoppers tend to throw caution to the wind and buy the most hideous, pointless tat they wouldn't dream of buying if it were being sold at full price.
Why? It's as if they've become possessed by the devil - like Damien was in The Omen, only some hapless bargain hunters, with more money than sense, aren't eying up a menacing Rottweiler growling in the distance; they're busy forking out far more than 666 paying for useless tat they don't need or don't like. Regret purchases, not bargains....ready for the return items queue, or the bin.
The January sales are supposed to save you money. Yes, you read that right... SAVE you money. That means...
You were going to buy the item anyway, only you didn't buy it earlier because you couldn't afford to at the full price.
You actually like the item, or you need it. Not because someone else grabbed it first or because a tag on it says 'reduced to HALF PRICE'
It actually fits you (clothing). A pair of size 8 jeggings is hardly likely to fit a 55 year old mother with 4 kids and a Kenwood Chef that's in regular use.
It suits your purposes for now, not in the future.
Impulse buying for stuff you've never considered owning before is not prudent sales shopping. The January sales aren't supposed to encourage you to blow money on unsuitable stuff, nor are they there to help cash strapped shoppers like you, YES YOU, get into debt (or further into debt) by enticing you to behave like mindless sheep rounded up by retail marketers out to swindle you of your hard earned cash with enticing advertising and cut price offers that are merely cash extractors ....Baa, baa....
Heres a little quiz: a bit like Mastermind..
Ask yourself this question: do rational individuals join the queues of the Harrods sale in freezing weather at 5am eagerly awaiting the doors to fling open so they can descend on a heap of dirty, crumpled, probably ripped tat that is really only fit for cleaning the windows?
Hmm.. No.
Correct.
Question 2: do you need that 'camel faux fur tote bag with a lurid pink zip' by 'X Designer' reduced from 1000 to 889? No, I thought not. You weren't getting a bargain at all; you were just being seduced into buying it when it probably wasn't worth 889 pence, let alone 889 squid to start with!
Yes, you do know the answer and that is correct.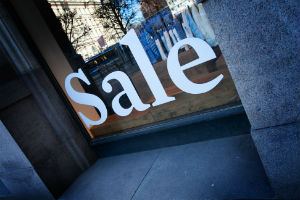 So you'll pass...
Here are some rules you might consider living by when seeking out sales bargains that really are bargains, not a cut priced extravagances. I got the clothing and accessories tips from Leslie Field, a fashion journalist on high profile magazines and daily newspapers who makes as much sense today as she did in the 80s when I first read them in her book and took them to heart ' saving me a fortune over the years. So the credit for this advice goes to her, not me.
Amortise: put money into clothing that you will wear a lot, and pay far less for garments you will hardly wear. Forking out 500 for a quality coat you will wear daily many times over makes a lot more sense than forking out a fraction of that sum on an evening dress or future wedding outfit.
Only buy items that you would consider buying at full price if you had the money, not stuff you wouldn't buy or don't need. Impulse buys are a defo' no, no. Sales should be tackled like military campaigns with plenty of advanced planning to eye up and ignore (rather than destroy) the enemy 'tags.'
Never buy for future needs. If a clothing item doesn't fit you now, don't buy it. By the time you've shed those surplus Xmas pounds at Weight Watchers, the item will be out of date or out of season and will only be fit for eBid or PreLoved.
Stock up on essential small goods that aren't size dependent: stretch lingerie, tights, socks, toiletries, make up and skincare...
If you can only afford to buy one item, make it a good quality accessory: a good pair of boots, a quality handbag or tote in a neutral shade. Not several items from rubbish shops that reduce already cheap items by a pound or two in the sale. Good accessories can transform an outfit and make it appear far more expensive than it really is. Far better to do that than buying some hideous designer top in a sickly Mustard shade with a purple animal print backdrop just because someone grabbed it first in the scrum and then put it down again to grab something else instead. They put it down for a reason. It was ghastly.
For clothing sales, remember this: about 80 per cent of sales items are bought in for the sales and can suffer quality assurance issues, or they are unshiftable items from their regular stock because they are vile and no-one wants to buy them at full price. So would it suddenly become a desirable investment purchase because it has a half price tag attached to it? No.
The sales are a great for 'considered purchases' (goods that cost a lot) but only if you actually need them in the first place: Computers, TVs, white goods, furniture etc. I am assuming that you aren't another techno-sheep....baa.. baa... lured into PC World by pointless design feature upgrade advertising for items that won't enhance your life one jot and will only serve to put a greater 'dent' in your credit card.
....something we must all be mindful of these days.
By: Grumpy xx
Leave a comment