21 comments Add a comment
I found the site of a power seller's music store on eBay which had excellent feedback, or at least it did at the time of writing. I was interested, so I asked some experienced eBayer's to check them out and they gave me the thumbs up to go ahead and order with them.
To cut a very long story short, they sent me two Trumpets at different times with the blue lacquer coat inside the valve chambers. They also claimed the keys were mother of pearl, which they were not! My gripe is really with eBay though I think, and what I am trying to let the public know is that eBay does not properly policing it's stores in my opinion. eBay claims to be a just a neutral broker, yet it collects fee's from a "power seller" who is sending out defective merchandise, mostly to beginning music students and their parents who don't know any better!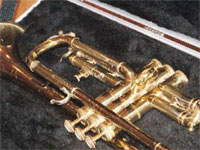 This is a hopeless situation to begin with and one that needs to be addressed. I have of course informed eBay that this is happening and I have the trumpet in question, plus the relevant email exchanges, which clearly provide proof. eBay however are standing firm in their decision not get involved. Absolutely ridiculous.
I consider eBay a co-conspirator with the store in question as they now know exactly what is happening and continue to collect revenue off the sales. The money issue on the Trumpet isn't a big deal, but eBay allowing this to stil go on is in my opinion.
By: Mr. Wishnefsky
Leave a comment