69 comments Add a comment
It makes my blood boil, when neighbours who have been very friendly for years, decide to buy their council house and then change completely over night. From that moment onwards, they get to be snobbish and look down their noses at you as if you are from another planet!
Also, it's around about then that you start to have regular arguments over the kids and where they can play. When the ball gets kicked over the fence accidentally theres a right argument. Before they were home owners they used to join in and throw it back - it was all a bit of fun.

Kids play a bit of football for goodness sake so whats the problem? Instead of being reasonable about it all, now they KEEP the ball and shout at the kids.
Then theres the possessive attitude towards parking spaces. You park your car where you've always parked it, on the street where you live. There aren't really allocated parking spaces with council houses, but here they come again, banging on the door and yelling abuse because apparently your car is in the way!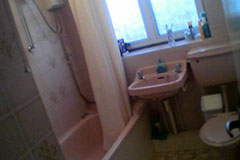 What is it with those who buy their own home?
What is it with those who buy their own home? Why do people turn overnight into completely selfish horrible people? Owning your house, whether it is an ex-council property or not does not make you a better person.
They're just trying to show off and it has turned them into argumentative fuddy-duddys.
Get back to reality It's a council house after all even if you are well off enough to buy it!
By: Delboy
Leave a comment