73 comments Add a comment
I live in a council house both my partner and I work. My neighbours, one is disabled due to a bad back her partner doesn't work as he claims to be to over qualified to get a job!
They have a large tree growing in their garden which overhangs into ours and as it is a willow tree it grows fast and spreads and leaves mess everywhere.
We tried to cut the tree back on our side at the weekend. Only to get screamed and abused verbally by our neighbours about touching their tree. They then informed us we are not allowed to touch the tree until the housing management people have been to see us.
Apparently they had already reported us for "touching the tree" the week before. This came as a bit of a surprise and was the first we had heard of it.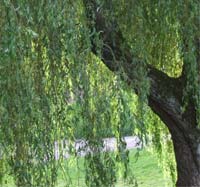 they moan and complain about anything
We now have housing management getting involved over us trimming a tree. All he had to do was pop round the week before and let us know he had spoken to housing and that we had to await their visit. At that point we would have called housing and clarified the situation said and that would of been the end of it until they came to visit.
Do you have a conflict with a neighbour over a tree? Post a comment on our discussion forum.
Instead now we feel so much anger and frustration towards our neighbours. This whole conflict around the trimming of this tree could have been so easily avoided. These people clearly have nothing better to do with their time because they moan and complain about anything. They don't even go in the garden anyway as the sun brings her out in a rash apparently!
By: Noo
Leave a comment