23 comments Add a comment
I'm at the end of my very long tether. Why? Well, "I'm moving home". There I said it, those three words that now strike gut wrenching anxiety, empty pockets and a telephone manner my mother would definately NOT be happy about!
drama - moving home is a nightmare from start to finish...
I truly have yet to meet someone who has had that smooth "I did it in four weeks" response to me. Moving home is a nightmare from start to finish and I just can't believe that it ever happens without some sort of drama let alone have the sale go through in four weeks!
I marketed my property in September 2005 and I should exchange contracts on Tuesday.
It is now September 2006 and yes it has taken a year to sell my home, so fingers crossed and all the other things we do when we desperately want something to happen.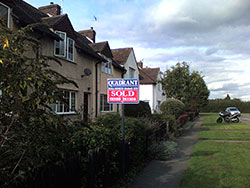 Solicitors - they won't call you back!
Yes, I really want this to go through and get it all over with! I have had to deal with estate agents that wouldn't know how to market a property let alone turn up for a viewing. Solicitors, property lawyers call them what you want because they won't call you back!
I'm just so fed up with the whole move and want to get back to living again, quite literally tearing my hair out. I have a serious gripe with this moving house business and I just needed to vent my frustration!
By: Caroline
Leave a comment