180 comments Add a comment
Wealthy people who buy up houses to let and their treacherous minions the letting agents that bleed their tenants dry make me sick. Such a despicable example of pure greed and what is the government doing about it? As usual, absolutely nothing! "There you go, of course you can buy as many houses as you like, and don't forget to rent them out for as much as you can get so your tenants can cover you're mortgage."
I really hate way the housing market works these days. It's very polarised, designed to make the rich richer and the poor poorer! There is a real shortage of 'affordable housing' in this country now that the property market has gone nuts and house prices have gone through the roof. The only real option for some of us is to rent, and unless you're a single teenage mother or an asylum seeker, renting a council house is pretty much out of the question. So what else do you do? You rent a house privately of course and that leaves you at the mercy of unscrupulous landlords and their letting agents.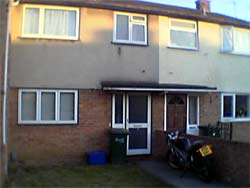 It really grates on me that there is no such thing as fair and reasonable rent. Landlords are always hiking up the price to get as much money as they can, squeezing tenants for every last penny. It's just ridiculous, particularly here in the South East where we live together like sardines. Some private landlords that rent the house themselves are okay. I have had good experiences as well as bad. So many of them however, are just out to get you to pay their mortgages on their second home. If these people hadn't bought up all the houses there might be a few left that the rest of us could afford!
When it comes to renting a house, another thing I hate is inspection day. The letting agency that I rent through at the moment, insist on inspecting the property every six months even though I've been there for nearly two and a half years and have always looked after the property! I have nothing to hide and I am clean and tidy etc., but I just don't like the thought of these people wandering in when I'm at work (they don't do inspections at weekend) and nosing around. It feels almost… degrading.
Leave a comment