17 comments Add a comment
Our house and neighbours have enjoyed great views over the golf course and countryside. A recent development by Taylor Wimpey will obliterate our views. The buildings are so close to us, like 2 metres from our back fence! According to the planning department views do not count and this is true in planning. However as we ALL know views are important in selling a house and do add value to a house. This is borne out by those who levy council tax.
If you have amenities such as golf course views you are taxed for this amenity. I have applied for a reduction in council tax due to loss of amenity. If successful surely this proves that a view is an asset and has a monetary value. Surely you cannot tax on one hand and not give compensation on the other if the amenity is lost?
Property developer should compensate those affected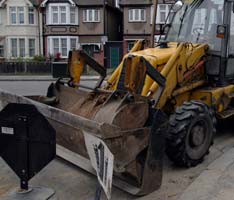 It would also mean that new developments which ruin views contribute to a lowering of revenues collected by council tax. It is time for all bodies to coordinate. How can it be on one hand that a view is not to be considered and on the other that it is a consideration for tax! Thus if a building plan reduces the value of a property but must be built for extra housing and of course affordable housing (a joke and a con) then the property developer should compensate those affected by the approved plan and pay compensation accordingly. This would only be fair don't you think?
I am sure the Taylor Wimpey's of the world would back down on exploitative and speculative property developments if compensation had to be paid out. "Where can we build?" they would bleat! Well not in my back-yard for a start! There is plenty of land around and plenty of brown sites without ruining the fortunes and lives of those who happily pay council tax in the hope of having value for it.
Nice to see the value of Taylor Wimpey reduced by 84% over the past year. Nice! Well serves them right another example of unbridled greed such as Northern Rock and many more. Sadly those who they employ end up losing jobs as a result.
So views do count and it is time planning and the tax man sang from the same sheet. I urge for a change in law that values the amenity of view from one's home.
By: Jim Currie
Leave a comment