104 comments Add a comment
I have worked since age 16, paid taxes and National Insurance like everyone else does and worked really hard to support myself and my daughter. Recently I became ill and have been certified sick from work. I realised pretty quickly that this was going to be quite long term and that money would be an issue. I approached my local council and housing association telling them my situation and that I would not be able to afford the rent on my privately rented home. I asked if I could be considered for a housing association home as the rent would be cheaper and I would be able to manage for the time being on the sick pay I will receive.
The housing association told me that as I was adequately housed I would be on the bottom of the list, and that I should apply for housing benefit, which I was of course refused on the grounds that I had savings. Well fair enough I suppose. The problem I have is that I have now used up all my savings and can't afford next months rent. I went back to the housing association for some help and advice, and was again told to apply for housing benefit. This I have done, but apparently it will take from 8 to 12 weeks for a decision to be made and even then they will only pay around a third of my rent!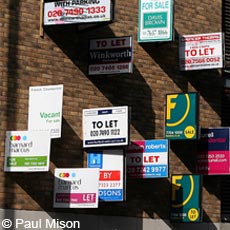 The housing association has said that I am still at the bottom of the list as I am currently adequately housed, and that to be considered sooner I need to be homeless. However, if I give my notice to quit to the landlord I will be considered as having made myself homeless, and will not qualify to be on the housing list for a certain period of time.
So the conclusion I have come to is that I have to carry on living where I am and stump up what I can here and there to try and pay the rent until the housing benefits are sorted out. I'll then continue to pay what I can to top up the housing benefit payment until my landlord evicts me for not paying the full rent, leaving with a debt and no hope of a good reference for the future.
Surely it can't be right to actively encourage people to get into debt, when there are so many people already in debt? All I need is a little help now to get myself over my illness and back on my feet before I can pay my way again. When I see some other single parents who have never worked and have council houses all paid for, I can understand why. I've struggled to stay out of debt and to provide for my little family and now I'm being punished because I've been paying my rent and have tried to do the right thing. I'm currently looking for a cheaper private rent but now I've spent my savings don't have a bond.
It's just not fair, through no fault of my own I'm going to get evicted, owe money and have a bad credit rating which means I'm going to need far more help in the future when all I need is some help for a few months until I can return to work and support us again.
Incidentally this is the same housing association that refused a friend of mine help when she wanted to move to an area with childcare and better public transport links so that she could return to work after being made redundant. They told her that wanting to return to work wasn't a good enough reason! Isn't the system just crazy?
Leave a comment