21 comments Add a comment
I am getting so tired of people just pushing me out of the way when they need to get somewhere. It happens on trains where people just barge into me and knock me with their luggage or bicycles. You see it in supermarkets where the staff push past customers to go on their breaks or shove people aside in the queue to get to the till.
This evening, I was just about to get on the bus when a man came racing in front of me - just as I was stepping towards the bus - he actually ran between me and the bus door! It was near the train station so I assume he was late for his train. What an idiot though. If I had moved forward a second earlier, he would have knocked me to the ground, considering the speed at which he was running. I could have ended up in hospital just so he could catch his train. And so it goes on and on...the lack of respect for other people.
People seem afraid to actually talk to someone else - easier to just shove them out of the way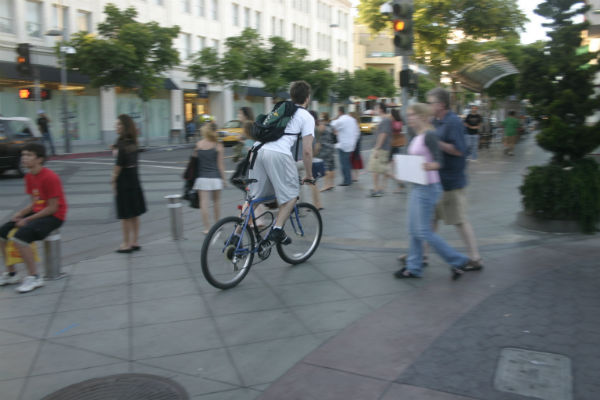 In the past, nearly everyone used to say "Excuse me please" or ring their bell if they were riding a bike. It wasn't just politeness, it also gave people warning that someone was trying to get past. You rarely hear those words nowadays. People seem afraid to actually talk to someone else. It would appear that it is far easier to just shove them out of the way. Or, maybe take a chance that you can run in front of them and they won't move. Or that you can go round them on a bike, with just a couple of inches clearance and with a bit of luck, they won't move into your path.
You see this a lot with teenagers cycling through the town centre at speed, weaving round pedestrians and narrowly missing them. They apparently don't care if they run into someone and that person gets hurt. I'm furious that people take chances like that - people could be (and sometimes are) injured by this kind of recklessness. Why not slow down, give people more space or actually ask to get through - say "excuse me please" or ring your bell? It would make life in Britain just a bit more civilised instead being a place where the culture of disrespect seems to have taken over.
By: Nervous pedestrian
Leave a comment