13 comments Add a comment
Twice recently I have failed to get in to see the film of my choice on Orange Wednesday. Tonight's experience was worse than ever though! We had to queue along a main road to get into the participating cinema car park. I then had to leave my husband to drive the car to the furthest point of the overflow car park while I joined the ticket queue forming outside the cinema.
we were delayed getting into the cinema...
It was pouring down with rain (and I mean REALLY pouring!). Eventually we got to the door and were directed to a queue for our cinema tickets. When we got to the front to buy our 2 for 1 tickets to see The Taking of Pelham 1,2,3 we were 5 minutes late. We were told the film had already started as it had no trailer!!! How many films have no trailer these days?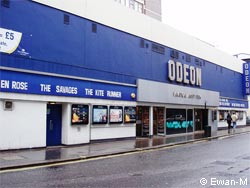 The real problem and the reason we were delayed getting into the cinema was the hundreds of people queueing for Harry Potter showing on two screens at the same time. This wasn't helped by the cinema staff who did not have the sense to form separate queues so that other people could see their films too. We didn't go in to see our film in the end because I hate missing the start of a film, the only thing worse would be missing the end of the film.
We did arrive at the cinema with plenty of time to spare. It was just unfortunate that Orange Wednesdays are now very popular, perhaps more so on a wet night and at the same time the Harry Potter crowds were out in force too. This happened before when we tried to go and see Slumdog Millionaire just after it won all those Oscars.
By: deskjet
Leave a comment