24 comments Add a comment
It is not only the UK that is full of unruly children. I've seen exactly the same thing abroad on holiday too. I remember an occasion when I was shopping in New York and I saw this American mother and her grandmother with five young children running and screaming in a clothes shop. They did nothing to control them and let them run amok when I was buying clothes. I wanted to confront them about this, but my mum said that the children were only misbehaving because they were 'tired and bored'. They were certainly not tired if they had the energy to run riot in the shop!
When I visited Lisbon I saw the same kind of unruly behaviour. I was at a restaurant and this kid was running around and wandering away from his family. They did not appear to keep an eye on him and were completely oblivious to where he was and what he was doing. To my surprise, nearby diners and staff did not seem to care about him treating the place like a playground either. In fact they were actually playing with him instead of bringing him back to his table where he should have been eating with his family.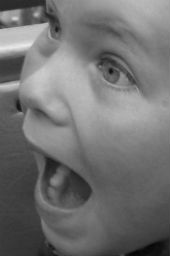 My point is, staff and other patrons at restaurants are not babysitters even if the place is family oriented. In this instance his family showed no consideration towards the other diners by not properly supervising their child. It wasnt an isolated case either, because as it happens there was another young Portuguese brat in this restaurant who was also causing ruckus. He was screaming, crying and would not stop yapping. I suffered an earful of his racket. As usual, his family failed to control him or show any consideration to other diners. I thought the whole point of going out to a nice restaurant was to have pleasant time and an enjoyable meal, but this was more like happy hour in a creche.
I think all places need to have zero tolerance towards children who behave like this in public areas. Shopping centres and restaurants are not playgrounds in any country! In my opinion the Western World is becoming too soft on badly behaved children these days.
By: Angry Autistic Female
Leave a comment